Ratings & Reviews on Rogue One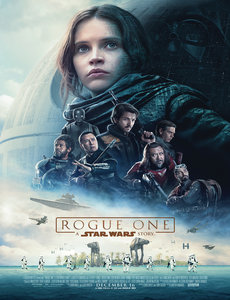 Watch Trailer
Rogue One
Movie Released on Friday, December 16, 2016
44 Users (88.00 %) Want to see
6 Users (12.00 %) Don't want to see

Rogue One: A Star Wars Story, or simply Rogue One, is an upcoming American epic space opera film directed by Gareth Edwards and written by Chris Weitz and Tony Gilroy, from a story by John Knoll and Gary Whitta. It will be the first Star Wars Anthology film, a standalone story set shortly before the events of the original Star Wars. Rogue One stars Felicity Jones, Diego Luna, Ben Mendelsohn, Donnie Yen, Mads Mikkelsen, Alan Tudyk, Jiang Wen, and Forest Whitaker, and follows a group of Rebel spies on a mission to steal design schematics for the Galactic Empire's new superweapon, the Death Star.
Writer : Chris Weitz Tony Gilroy
Director : Gareth Edwards
Stars : Felicity Jones,Diego Luna,Ben Mendelsohn,Donnie Yen
Duration : 133 minutes
Rate this Movie and Get 20 Reward Points
(Please give your true opinion about the movie as it helps other members decide whether they should watch this movie or not. Incase you haven't seen the movie but heard about it from friends, then Rate the movie based on what you have heard.)
Please leave a review on this movie and Get Additional 100 Reward Points
Tell us why you liked it, or didn't like it.
You can write about the actors, actresses, storyline or scenes which you liked the most.
If you haven't seen the movie but heard about it from friends, then you can write about what you have heard.