Ratings & Reviews on Assassin's Creed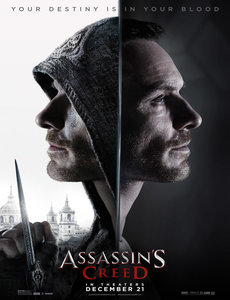 Watch Trailer
Assassin's Creed
Movie Released on Friday, December 30, 2016
77 Users (96.25 %) Want to see
3 Users (3.75 %) Don't want to see

Assassin's Creed is an upcoming action adventure film based on the video game franchise of the same name The film is directed by Justin Kurzel, written by Michael Lesslie, Adam Cooper and Bill Collage, and stars Michael Fassbender, Marion Cotillard, Jeremy Irons, Brendan Gleeson, Charlotte Rampling and Michael K. Williams. The film will be set in the same universe as the video games but features an original story that expands the series' mythology. Filming began in late August 2015 and concluded in January 2016. Assassin's Creed is scheduled to be released on December 21, 2016 in France and in the United States.
Writer : Michael Lesslie
Director : Justin Kurzel
Stars : Michael Fassbender,Marion Cotillard,Jeremy Irons,Brendan Gleeson,Charlotte,Rampling,Michael K. Williams
Duration : 140 minutes
Rate this Movie and Get 20 Reward Points
(Please give your true opinion about the movie as it helps other members decide whether they should watch this movie or not. Incase you haven't seen the movie but heard about it from friends, then Rate the movie based on what you have heard.)
Please leave a review on this movie and Get Additional 100 Reward Points
Tell us why you liked it, or didn't like it.
You can write about the actors, actresses, storyline or scenes which you liked the most.
If you haven't seen the movie but heard about it from friends, then you can write about what you have heard.