Ratings & Reviews on The Revenant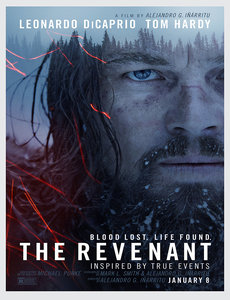 Watch Trailer
The Revenant
Movie Released on Friday, January 29, 2016
149 Users (90.85 %) Want to see
15 Users (9.15 %) Don't want to see

The Revenant is a 2015 biographical western film directed by Alejandro G. Iñárritu set in 1823 Montana and South Dakota, which was inspired by the experiences of frontiersman and fur trapper Hugh Glass. The screenplay was written by Mark L. Smith and Iñárritu, based in part on Michael Punke's The Revenant: A Novel of Revenge. The film stars Leonardo DiCaprio, Tom Hardy, Will Poulter, and Domhnall Gleeson. Development of the film began in August 2001 when Akiva Goldsman purchased Punke's manuscript with the intent to produce the film. The film was originally set to be directed by Park Chan-wook with Samuel L. Jackson in mind to star, and later by John Hillcoat with Christian Bale in negotiations to star. Both directors left the project, and Iñárritu signed on to direct in August 2011. In April 2014, after several delays in production due to other projects, Iñárritu confirmed that he was beginning work on The Revenant and that DiCaprio would play the lead role. It is the second on-screen collaboration of Leonardo DiCaprio and Tom Hardy (the first being Inception). Principal photography began in October 2014; delays associated with location and crew challenges resulted in its end date moving from May to August 2015.
Writer : Mark L. Smith (screenplay)
Director : Alejandro G. Iñárritu
Stars : Leonardo DiCaprio, Tom Hardy, Domhnall Gleeson, Will Poulter
Duration : 156 minutes
Rate this Movie and Get 20 Reward Points
(Please give your true opinion about the movie as it helps other members decide whether they should watch this movie or not. Incase you haven't seen the movie but heard about it from friends, then Rate the movie based on what you have heard.)
Please leave a review on this movie and Get Additional 100 Reward Points
Tell us why you liked it, or didn't like it.
You can write about the actors, actresses, storyline or scenes which you liked the most.
If you haven't seen the movie but heard about it from friends, then you can write about what you have heard.