Ratings & Reviews on Kong: Skull Island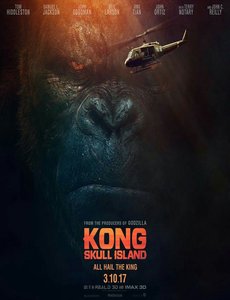 Watch Trailer
Kong: Skull Island
Movie Released on Friday, March 10, 2017
9 Users (90.00 %) Want to see
1 Users (10.00 %) Don't want to see

Kong: Skull Island is an upcoming American monster film directed by Jordan Vogt-Roberts and written by Dan Gilroy and Max Borenstein, from a story by John Gatins and Gilroy. The film is a reboot of the King Kong franchise and will serve as the second film in Legendary's MonsterVerse. It stars an ensemble cast consisting of Tom Hiddleston, Samuel L. Jackson, John Goodman, Brie Larson, Jing Tian, Toby Kebbell, John Ortiz, Corey Hawkins, Jason Mitchell, Shea Whigham, Thomas Mann, Terry Notary, and John C. Reilly. Principal photography began on October 19, 2015, in Hawaii. Kong: Skull Island is scheduled to be released in the United States on March 10, 2017, in 2D, 3D, IMAX 3D and in Dolby Cinemas.
Writer : Dan Gilroy
Director : Jordan Vogt-Roberts
Stars : Tom Hiddleston,Samuel L. Jackson,John Goodman,Brie Larson,Jing Tian
Duration : 133 minutes
Rate this Movie and Get 20 Reward Points
(Please give your true opinion about the movie as it helps other members decide whether they should watch this movie or not. Incase you haven't seen the movie but heard about it from friends, then Rate the movie based on what you have heard.)
Please leave a review on this movie and Get Additional 100 Reward Points
Tell us why you liked it, or didn't like it.
You can write about the actors, actresses, storyline or scenes which you liked the most.
If you haven't seen the movie but heard about it from friends, then you can write about what you have heard.