Ratings & Reviews on Jai Jawaan Jai Kisaan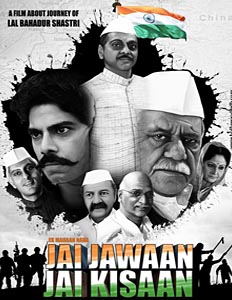 Watch Trailer
Jai Jawaan Jai Kisaan
Movie Released on Friday, February 6, 2015
223 Users (84.47 %) Want to see
41 Users (15.53 %) Don't want to see

jAI JAWAN JAI KISAN (English: Hail the Soldier, Hail the Farmer) was a slogan given to India by the Prime Minister of India Lal Bahadur Shastri in 1965 at a public gathering at Ramlila Maidan, Delhi. It means hail the soldier and hail the farmer.[1][2] Soon after Shastri took over the prime ministership of India after Nehru's death, India was attacked by Pakistan. At the same time there was scarcity of foodgrains in country. Shastri gave the slogan Jai Jawan Jai Kisan to enthuse the soldiers to defend India and simultaneously cheering farmers to do their best to increase the production of food grains to reduce dependence on import. It became a very popular slogan.
Writer : Milan Ajmera
Director : Milan Ajmera
Stars : Om Puri, Prem Chopra, Rati Agnihotri, Jatin Khurana, Akhilesh Jain
Duration : 2 Hrs 15 Min
Rate this Movie and Get 20 Reward Points
(Please give your true opinion about the movie as it helps other members decide whether they should watch this movie or not. Incase you haven't seen the movie but heard about it from friends, then Rate the movie based on what you have heard.)
Please leave a review on this movie and Get Additional 100 Reward Points
Tell us why you liked it, or didn't like it.
You can write about the actors, actresses, storyline or scenes which you liked the most.
If you haven't seen the movie but heard about it from friends, then you can write about what you have heard.